Message from Head of the Department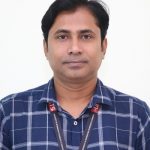 The Electronic and Communication Engineering (ECE) is the most dynamically changing and ever evolving branch since last more than 100 years. Electronic is the foundation on which Telecommunication, Mobile Technologies, Generations, Information Technology and Computer Engineering have grown. All high-speed networks and computers work on the hardware designed by an electronic engineer. The department of ECE is equipped with a state of art facilities and highly qualified faculty members from around the world. I welcome you to the Electronic and Communication Engineering Department as undergraduate or post graduate or research student and I hope to be part of your success.
– Dr. Palash Chandra karmaker
Head, Electronic and Communication Engineering (ECE)
Department of Electronic and Communication Engineering (ECE) at University of Information Technology & Sciences (UITS) provides both the undergraduate and postgraduate education that stresses a profound understanding of engineering principles and how they are applied to the design, analysis, implementation and testing of telecommunication networks. Bachelor of Science in Electronic and Communication Engineering (B.Sc. in ECE) was first introduced in the Department of Electronic and Communication Engineering under the Faculty of Science and Engineering (SSE) at UITS and approved by the UGC in 2005.
Vision
To produce professionally as well as globally competent graduates in the field of electrical and electronic engineering and serve society by addressing the challenges for sustainable development.
Mission
To create a conducive academic environment achieving the highest quality of education and cutting-edge research.
To enhance student's good communication and leadership skills and their ability to use their engineering knowledge in a rapidly changing world by providing state-of-the-art resources.
To produce socially responsible and morally upright graduates.
Program Educational Objectives (PEO)
PEO 1: Problem Solving
PEO 2: Competent Graduates
PEO 3: Continuous Development
Program Learning Outcome (PLO)
PLO1: Engineering Knowledge
PLO2: Problem Analysis
PLO3: Design/Development
PLO4: Investigation
PLO5: Modern Tool Usage
PLO6: The Engineer and Society
PLO7: Environment and Sustainability
PLO8: Ethics
PLO9: Communication
PLO10: Individual Work and Teamwork
PLO11: Lifelong Learning
PLO12: Project Management and Finance
More About this program
ECE is one of the most popular Engineering subjects in the Country and Abroad, recently. ECE has a major role behind the revolutionary discovery, such as applied fields of electronics, robotics, automation, satellite engineering, digital communication, mobile communication, etc. which has created an amazing career opportunities for the Graduates. ECE graduates can pursue a well-paid and respected career in robotics & electronics, telecommunication engineering, radio and satellite communication, several other applied fields of computer science, Information Technology etc. Department of ECE at UITS welcomes you to join this magical field of engineering.
Specific Job Fields
Government Jobs, BCS, BPSC, BTRC, BTCL and others | Military Communications | Telecommunication Industries | Satellite Communication | Mobile Companies, Service providers | Network Solutions & Applications for Telecom Industries | Radio, TV Engineering & Broadcasting | Antenna & RADAR Engineering | Robotics and Industrial Automation, PLC, SCADA | Electronic industries, VLSI, EDA | Micro-controllers and Embedded Systems | Biomedical Engineering and other sectors.
Why would you choose Department of ECE at UITS?
=> Magnificent Beautiful Campus at Baridhara, Dhaka.
=> well-equipped modern laboratories with cutting edge facilities.
=> Learn from renowned and expert teachers.
=> On Campus Job Facilities for the energetic students.
=> Job Opportunities at several Industries of PHP Family.
=> Quality Education at a very affordable cost.
=> Gain Industrial Attachment while studying at the campus.
=> Up to 100% Waiver on tuition fees.
=> Transportation facilities for the students.
=> 100% Full-Time & Highly Qualified Faculty Members with Foreign Degrees.
=> Career Specific Guidance and counselling for Job / Higher Studies / Abroad.
Department of ECE at UITS is highly equipped with all modernised equipment for physics, chemistry, electronics, electrical, machine, instrumentation, computation, computer, analog and digital communication, telecommunication, VLSI, optical fibre, microprocessor, simulation laboratories etc.
=> Engage in the design of systems, tools and applications in electronics, communication and allied engineering domains.
=> Apply the knowledge of electronic and communication engineering to solve problems of social relevance, and pursue higher education and research.
=> Carry out core engineering and managerial tasks in multi-disciplinary and multi-cultural environments.
=> Engage in lifelong learning, career enhancement, and adapt to changing professional and societal needs.
Department of ECE at UITS welcomes you to join this Creative world. Admission is open for Spring Semester 2020. Contact: Dr. Palash Chandra Karmaker
Head, ECE & Associate Professor, EEE
PhD in Materials Science , Dept of Physics, Jahangirnagar University
M.Sc. in Communication Engineering, United International University
M.Sc. (Solid State Physics, Thesis Group),University of Rajshahi
B.Sc. (Honors) in Physics, University of Rajshahi.
Email: pckarmaker@uits.edu.bd
Mobile: 01712138393
Office: +8809678008487, Ext- 506